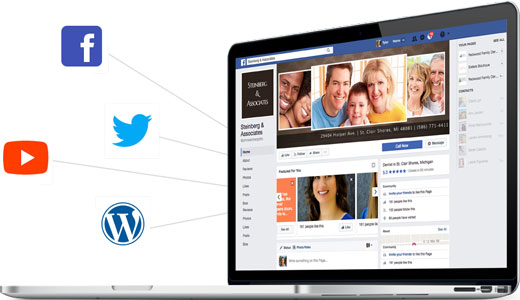 Social Media Marketing for Dentists!
Social Media is such a large and diverse topic, that if you were to employ someone to setup, manage, and keep all the different platforms filled with fresh content, it would be a full-time position! We know that the average dental practice just doesn't have the resources to spare.
Deploy Dental has developed a strategy that has proven to be successful in helping dental practices engage patients, with no effort on your end. With this all-in-one social media solution, you receive a Blog, Facebook Business Page, Twitter Profile and YouTube Channel. Then we use our vast library of dental specific content to make blog posts and publish articles across your social media platforms. If you did nothing else, this alone would be a powerful way to attract potential patients, you are of course free to use these platforms as much as you like to post news and announcement, offer deals or promotions, and/or write your own unique blog posts.
Utilizing this social media package also greatly benefits search engine optimization. That's because the accumulation of blog posts over time results in a massive resource of dental specific content that creates relevancy with the local searches made in your market.
Facebook Business Page

Your custom Facebook Business page is a great way to engage and stay connected with patients. It includes the verification of your Facebook Business Page, custom services/treatments tab, call-to-action button along with profile and cover photos matched to the branding of your website and practice. It will also automatically receive 4 syndicated posts per month that link back to your website.
Twitter Page

We create you a custom Twitter background, profile photo and styling package that reflects the branding of your practice and website. Utilize it by Tweeting deals, promotions or interesting news to your followers. It will also automatically receive 4 syndicated posts per month that link back to your website.
YouTube Channel

We create you a YouTube channel that reflects your brand and allows easy syndication of your patient educational content or marketing videos. For practices that have extensive videos collections or TV commercial spots, it can be a good way to get your videos in front of another audience.
Blog powered by WordPress

We install a blog on your website using the open source WordPress framework. It features an easy to use editor for creating, scheduling, and managing blog posts. If you don't have the time to write your own, that's okay! We post 4 articles per month of dental specific content that is customized for your practice offerings and location. These posts then syndicate across your social media platforms to provide many ways for patients to find you!
Did you know? More than 74,652,825 websites are running on the WordPress framework.